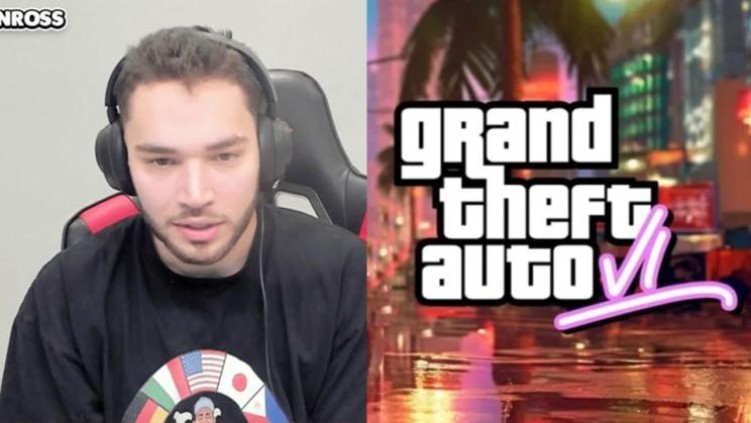 Credit: Adin Ross
The popular online Kick streamer Adin Ross has become quite popular over the years for making extravagant purchases. This includes the time when he paid $200,000 to listen to an "unreleased" Travis Scott and Kanye song that was actually AI-generated, meaning that Ross ended up getting scammed.
However, it looks like he might have his eyes on something new now, i.e., GTA 6 and is offering to pay a large sum of money in order to get it. After the game's developers, Rockstar Games, announced that they were finally going to reveal GTA 6's very first trailer in early December, the internet has had a lot of thoughts to share.
Many began with their speculations of what the trailer might feature, while others claim that it'll reveal the official release date of Grand Theft Auto 6. Similar to all the other fans, Adin Ross has also been super excited to play the much-anticipated game. So, he ended up offering a huge load of money to anyone who might help him get his hands on the GTA 6 game before its official release.
However, people online jumped at the opportunity to inform him that this plan might backfire like the Kanye one. Once the X account called Adin Reports posted that the streamer was willing to pay $500K to play GTA 6, fans started to roast the Kick streamer. One user mocks him by bringing up the whole Kanye scam by saying, "Tell him for 200 million I got gta 6 and it comes with a unreleased Kanye song."
Another fan joined the thread by commenting, "500k to get a lawsuit from rockstar," whereas a third fan stated, "He about to get scammed AGAIN stop adin bro." One user just entered the post to tease the streamer by saying, " i have it i promise." While fans had their fair share of fun, there's no telling if the streamer will actually get his hands on GTA 6 early or not.
Speaking of Grand Theft Auto 6, let's just hope that the game comes out as soon as possible. However, as of right now, all we know about the game is through leaks and speculations, with the latest one suggesting that GTA 6's Latina protagonists will allegedly have a child. Some other leaks claim that the game might launch sometime in 2025, and reveal the leaked AI Debug menu that will be reportedly featured in the game.
Many of these leaks might get confirmed in the trailer that's about to launch in the coming month, so that's something to look forward to. Fans will finally get an official look at GTA 6, something for which they have been waiting for a really long time.