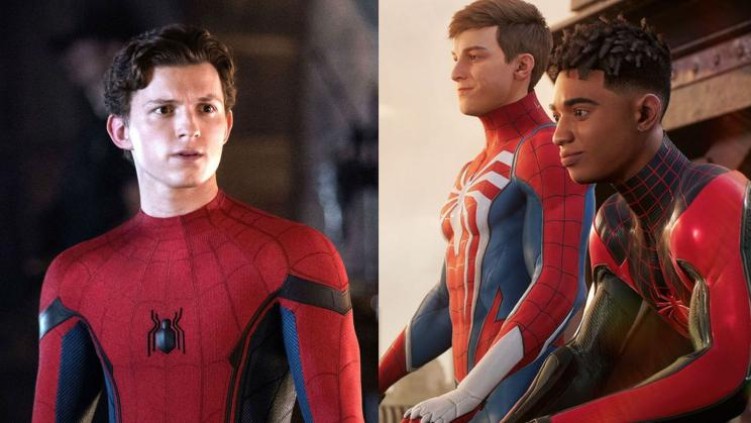 Credit: Marvel/Insomniac Games
Nearly two years after the release of Spider-Man: No Way Home, fans are still disappointed with Marvel's confirmation of a particular detail present on Tom Holland's last swing Spider-Man suit. The classic web-slinger has become the center of attention due to the release of the latest Marvel's Spider-Man 2 video game.
Insomniac Games' epic video game featured Holland's iconic brand-new suit after it was featured in only a few seconds of the 2021 movie. This allowed the viewers to get their first good looks at Spider-Man's entire costume. The MCU look's digital rendition featured every single detail that one would expect, including the red base and the shining blue side panels. However, this suit also came with one controversial element that many fans might have missed.
Since the launch of Marvel's Spider-Man 2, some keen-eyed fans have pointed out that the No Way Home last suit featured what looks like a gold spider logo on the hero's chest. The "New Red and Blue Suit" (as named in the game) features a gold arachnid front and center, as was shown in the pictures that were uploaded to Reddit by user wes205.
Credit: Reddit
It was previously speculated that the movie's look included such a detail, but nothing was confirmed. Although it's difficult to tell if the spider was gold in Tom Holland's No Way Home, concept art from popular merchandise illustrator Rob Brunette featured Spider-Man's brand-new look with a golden spider logo on his chest. The illustrator shared the image on his Instagram briefly after the launch of No Way Home, saying:

Credit: Rob Brunette
This seems to be a controversial upgrade to what was an iconic Spidey suit, and it looks like the fans are pretty upset about this. Under the Reddit post, Spider-Man fans shared their disappointment over the gold spider featured in Spidey's suit in Marvel's Spider-Man 2. A Reddit user said, "Does look a little weird though," whereas another one claimed, "And now I don't like it as much." Another fan stated, "Hate it. We were so close to perfection."
Is the spider featured on Spidey's suit really gold?
Although these Spider-Man 2 photos confirm that Tom Holland's spider logo is gold on the brand-new Spider suit, some are still questioning it until Marvel Studios officially confirms it in some way. What's even more confusing is the No Way Home merch that featured the new look. The Hot Toys figure wearing the suit was released a couple of months ago after the movie's release, which was based on Holland's Spider-Man.
As it turns out, its spider is not at all gold. The description of the figure can be read below:

Unfortunately, any confirmation regarding the controversial detail from Marvel Studios won't come until Spider-Man 4, in which we'll see Tom Holland sporting the red and blue suit for some more action. Marvel's Spider-Man 2 is currently available to play exclusively on PlayStation 5.