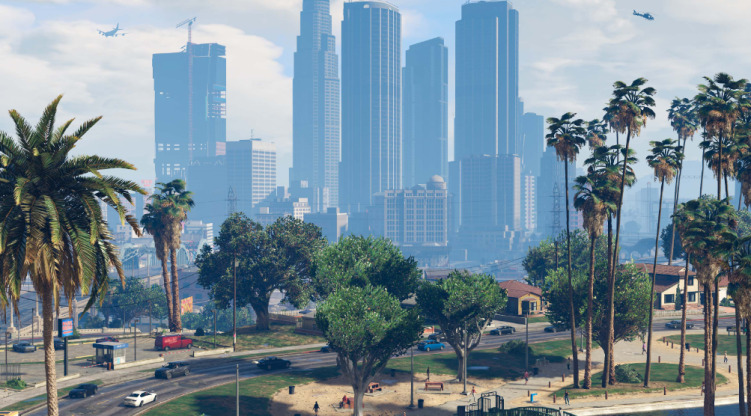 Credit: Rockstar Games
While fans eagerly wait for the GTA 6 trailer to come out in early December, we only have leaks and rumors to give us an idea of what to expect from the upcoming much-anticipated game. Since Rockstar Games is trying its best to prevent leaks from getting out, fans are curious to know more about the game as the developers themselves haven't shared anything as such.
As per the latest rumor, the developers have cut a major, brand-new feature from Grand Theft Auto 6 while the game is still in development. Over the past couple of years, many rumors and leaks have suggested that Rockstar is planning on adding an advanced weather system that will be a first for the GTA franchise. Many thought this would come true, but the latest rumor suggests that the developers might have already scrapped this mechanic out of their plan.
A reputable and popular GTA insider called Rockstar Universe shared in their post on X that "extreme weather" was scrapped during the game's development, but they didn't specify when exactly it happened. They wrote, "I've heard they wanted hurricanes and tornadoes, as to why they were cut, I don't know. It could be tech limitations, it could be something else." Many believe that it could be due to tech limitations.
Most video games don't even have weather, and for those that do, it's a simple implementation of the system. It can be quite demanding in a simple implementation as well, especially when you think about what you get out of the mechanic, which is nothing more than mere novelty. Once you consider an open-world sandbox game where everything interacts with each other, it becomes a lot more difficult to implement a wide range of weather systems.
This is a huge reason behind Los Angeles being the perfect setting for the GTA series because its consistent sunshine is much simpler to render. As per many rumors and reports, GTA 6 will mainly take place in Vice City, the series' take on Miami, Florida. Of course, Florida is well-known for its hurricanes, so it wouldn't be a shock if Rockstar plans on implementing some system to counter this, but it's not that easy.
However, since the game will reportedly cost hundreds of dollars, there's a chance an advanced weather system might be introduced in the game or was supposed to be until this rumor came out. We'll know for sure once the game comes out, which will reportedly be in 2025.