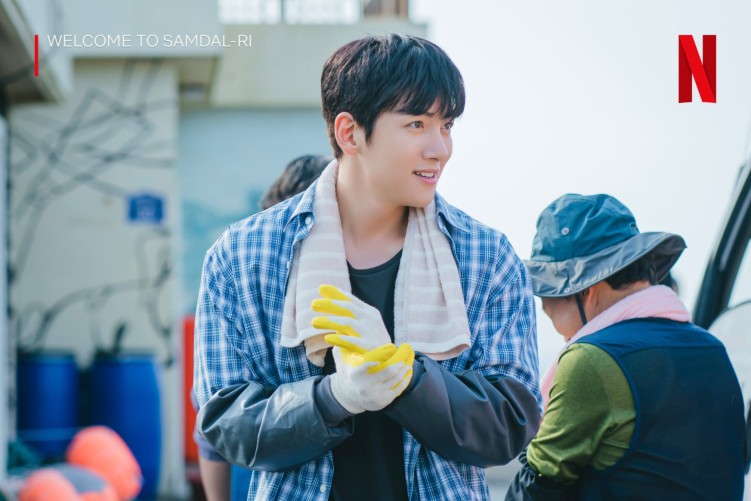 Credit: Netflix
A new K-drama is coming its way to Netflix next month. Titled Welcome To Samdal-Ri, the series will see Ji Chang Wook and Shin Hye Sun in the lead as childhood friends who have opposing dreams. Originally produced by JTBC, the network has dropped new behind-the-scenes stills for the show, featuring its two lead stars having fun.
Fans are about to see Ji Chang Woo as Jo Yong Phil in Welcome To Samdal-Ri. As a loyal citizen of Jeju Island, this guy has no plans to leave this place and swears to stay to protect his fellow residents. He's the complete opposite of Jo Sam Dal, played by Shin Hye Sun, who, despite growing up together, badly wants to leave this small town to move to Seoul.
In the behind-the-scenes stills, Ji Chang Woo can be seen seriously looking at what looks like a script as a man seems to be instructing him what to do. Shin Hye Sun also appears to be working with a staff member while holding a white cloth in front of the camera.
In another still, the two are together while watching their scenes with the crew. And for the last one, Ji Chang Woo and Shin Hye Sun are laughing their hearts out with another guy.
You can check the behind-the-scenes stills below:
What is Welcome To Samdal-Ri about?
Directed by Cha Young Hoon and written by Kwon Hye Joo, Welcome To Samdal-Ri follows the story of the childhood friends Jo Yong Phil and Jo Sam Dal. Yong Phil aspires to be a weather forecaster to protect the elders of his hometown after her mother died due to a wrong weather report. However, his dream and determination to fight disinformation make him a stubborn troublemaker.
On the other hand, Sam Dal dreams of living in Seoul as a successful fashion photographer. Sure, she has successfully achieved this dream, but when her life suddenly falls apart, she returns to her small and old hometown. As she arrives, she's about to reconnect with Yong Phil and is surprised that they still have the same strong friendship, but something romantic is about to brew.
You can read the synopsis below:
Who are the cast members of Welcome To Samdal-Ri?
Aside from Shin Hye Sun and Ji Chang Wook, Welcome To Samdal-Ri has several cast members. For the complete list, you can check below:
Shin Dong Mi as Jo Jin Dal

Kang Mi Na as Jo Hae Dal

Kim Mi Kyung as Go Mi Ja

Seo Hyun Chul as Jo Pan Sik

Kim Do Eun as Cha Ha Yul

Lee Jae Won as Wang Kyung Tae

Bae Myung Jin as Cha Eun Woo

Kang Young Seok as Boo Sang Do

Yoo Oh Seong as Jo Sang Tae

Baek Hyun Joo as Oh Geum Sul

Yoon Jin Seong as Sang Do's mother

Kim Mi Hwa as Yang Bu Ja

Jo Yun Seo as Bang Eun Ju

Kim A Young as Go Eun Bi

Lee Do Hye as Yang Ji Eun

Yang Kyung Won as Jeon Dae Young

Han Eun Seong as Cheon Chung Gi
Welcome To Samdal-Ri will be released on December 2 on JTBC and will be streamed on the same day internationally on Netflix. With the number of K-dramas coming to the streamer as of late, this one is another must-see.