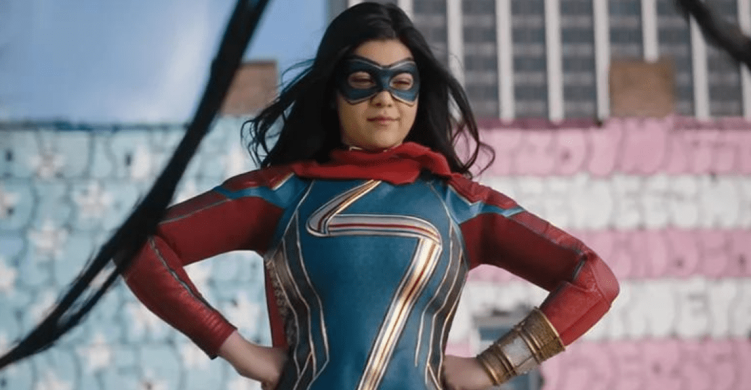 Credit: Marvel Studios
Iman Vellani revealed in an interview that there was an alternative version of the Young Avengers scene in The Marvels. The actress goes into more detail about the last scene in the movie, which shows Kamala Khan with Hawkeye and Nick Fury discussing assembling a Young Avengers. According to her, there was a version of this scene where the team had already been assembled, but it never got filmed.
The Miss Marvel actress expressed her opinion on the scene, saying that we should see Kamala Khan from the Young Avengers from the beginning. She said she mentioned to the production team that this scene wouldn't make sense if the team was already assembled. She stated on Comicbook.com's Phase Zero podcast:
"Yes, I mean, it was like pretty much the same lines," Vellani explained. "I think they were trying their best to incorporate as many as they can. But, I think its better that we see Kamala actually form the Young Avengers starting from the beginning. Because, there was a version where they already exist and I was like, 'That doesn't make any sense' and they were like 'We know, we're not gonna film this.'"
Iman also went into detail about meeting Hailee Stanfield and her short experience working with the Hawkeye star. She mentioned that she enjoyed working with her and discussing the potential future of Young Avengers.
"But, yeah, I think it was really fun and I loved working with Hailee for just that one day that I got to meet her and see her and talk to her. She's so… it was nice just having someone to relate to about the super suits and… you know, where the future of the Young Avengers lies. So, yeah I'm very excited. Hopefully, that turns into something real…. It's my favorite part about the first Avengers film too. When Nick Fury and Scarlett Johansson, they all gather together, and they're like 'we're a team now.'"
Iman Vellani and Her Role In Young Avengers
The Marvels sees Iman Vellani as Kamala Khan team up with Brie Larson's Captain Marvel and Teyonah Parris's Monica Rambeau as they go up against Dar-Benn. Captain Marvel's powers get entangled with the two other heroes, eventually leading to the formation of a team called The Marvels. The movie also features the return of Samuel L. Jackson as the popular Nick Fury, who we see at the end with Kamala Khan and Kate Bishop, talking about Young Avengers. The actress said:
The Marvels received mixed reviews, with some liking the movie while others claiming that it isn't up to fan expectations. The movie also received a 62% rating on Rotten Tomatoes. Some fans are even making a comparison between The Marvels and Loki Season 2 since they both came out simultaneously, stating that one is the best Marvel project in a long time, while the other is the opposite. In either case, we hope we see the young Marvel star appear again in future MCU projects.