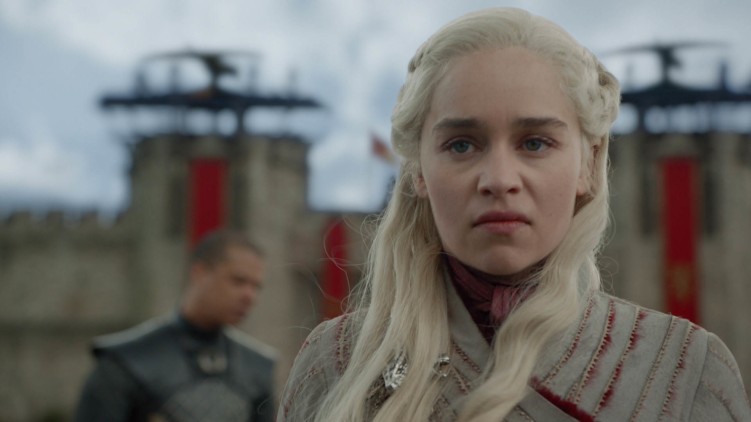 Credit: Helen Sloan/HBO
Fans of George R.R. Martin's epic fantasy series A Song of Ice and Fire received a disappointing update on the highly anticipated installment The Winds of Winter. The Game of Thrones creator revealed that he hasn't done a lot of work on the sixth novel in his book series!
Martin, who famously authored the series that inspired the hit HBO show Game of Thrones, revealed during a recent appearance on BANGCAST alongside Bernard Cornwell, the author of The Last Kingdom, that he still has "hundreds more pages to go" on the much-awaited book.
"The main thing I'm actually writing, of course, is the same thing... I wish I could write as fast as [Bernard Cornwell] but I'm 12 years late on this damn novel and I'm struggling with it," Martin said. "I have like 1,100 pages written but I still have hundreds more pages to go. It's a big mother of a book for whatever reason. Maybe I should've started writing smaller books when I began this but it's tough. That's the main thing that dominates most of my working life."
The news is disheartening for readers who have been eagerly awaiting the penultimate installment since the release of A Dance with Dragons in 2011. However, it's even worse when you realize that Martin hasn't written a lot in the past year.
Why is The Winds of Winter still delayed?
The latest update is particularly discouraging as Martin mentioned having 1,100 pages almost a year ago, suggesting little progress over the past months. During an appearance on The Late Show with Stephen Colbert in December 2022, Martin stated that he had "like 1,100, 1,200 pages" written, with 400–500 pages left to go. While the lack of progress is disappointing to fans, it has also become a source of humor online, with Martin sharing a Winds of Winter meme in response to those doubting his commitment to completing the book.
The delay in The Winds of Winter is attributed to the size and complexity of the project, as well as Martin's involvement in various other ventures. The author revealed that there are eight Game of Thrones spinoff shows in development, including A Knight of the Seven Kingdoms: The Hedge Knight, which has been greenlit and is set to begin filming in the spring of 2024.
In addition, House of the Dragon Season 2, which has completed filming, is scheduled to premiere in the summer of 2024. Martin's extensive commitments beyond The Winds of Winter contribute to the ongoing frustration of fans eagerly awaiting the continuation of the beloved series.
For now, The Winds of Winter does not yet have a publication date. In the meantime, House of the Dragon Season 2 is already expected to premiere on HBO next year.