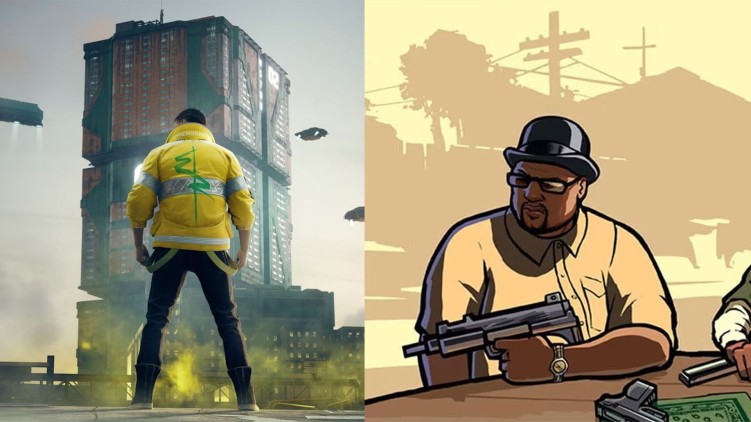 Credit: CD Projekt RED / Rockstar Games
The Phantom Liberty DLC for Cyberpunk 2077 came out some time ago and completely refreshed the game. It added many hours' worth of content and story and even brought Idris Elba into the world of Cyberpunk as an antagonist. Overall, this DLC was well-received by the Cyberpunk community and received amazing reviews.
Phantom Liberty, along with other things, also included a special Easter egg that players have finally uncovered after playing and exploring the game for so long. This particular Easter egg, of course, refers to the classic and very popular Big Smoke order from GTA San Andreas. It is also heavily buried and well hidden, hence making it quite difficult to spot.
After you head to the new Dogtown location in Cyberpunk 2077 Phantom Liberty, you will have to meet up with a veteran FBI agent named Solomon Reed, who is played by the popular actor Idris Elba. The Easter egg in question then comes up during a task in the Lucretia My Reflection quest when V has to call Reed using an old telephone.
In a short cutscene, Johnny Silverhand, who is played by none other than Keanu Reeves, has to explain to V in a humorous way how to use an old telephone. Not only is the cutscene itself humorous, but it turns out there's another fun secret hidden in the background. As spotted by the Reddit user Hykr, Reed's telephone has Big Smoke's entire fast food order written on it with a pen.
There are also some other Easter eggs connected to the yellow telephone. For example, if you call 911, you will trigger a new interaction with Johnny. Moreover, dialing 6175556277 will also trigger a playback of his band's popular song, Never Fade Away. Lastly, you can also dial 5745552377 to hear a rendition of The Witcher's main theme.
Where is this GTA San Andreas Easter egg from?
If you haven't played the game, there is a mission called "Drive-Thru" that sees our protagonist, Carl Johnson, go to a fast-food restaurant with his gang members. One of these people is Big Smoke. When they arrive at the restaurant, everyone places their normal orders till it's Big Smoke's turn, who places a comically large order just for himself.
The order starts with "two number 9s" and "a number 9 large", which is represented as "2 x 9" and "1 x 9.L" in the Cyberpunk Easter egg. The remaining order goes "number 6 with extra dip, number 7, 2 number 45's, one with cheese, and a large soda." Other than the cheese, extra dip, and large soda, everything from this order is written on the yellow telephone in Cyberpunk.
This order has since become an extremely popular meme and Easter egg, and its references have appeared in many later games. The most recent reference is in the Phantom Liberty DLC, where it looks like someone regularly ordered the same food as Big Smoke.
Cyberpunk 2077's Phantom Liberty is available to purchase and play across all platforms.